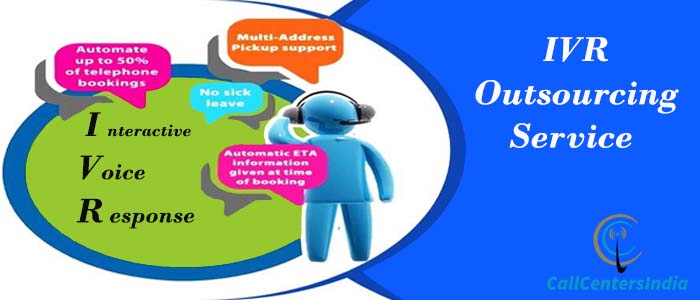 You're probably used to an automated menu playing when you call a business for service. Interactive voice response (IVR) is at work in that automated menu. IVR is a telephone system that routes calls to the appropriate person or response depending on the menu selections the consumer selects. IVR has fast become the norm in the business. It offers businesses organisational efficiency, cost savings, and elevated customer pleasure. Most IVR outsourcing services ask users to choose alternatives using their phone's keypad or from a menu in natural language. The consumer will find it simpler to get to the appropriate department or service area without being moved around as a result.
Whether based on departments, goods, or issue kind, you may organise the IVR menu whichever makes the most sense for your business.
Six advantages of IVR outsourcing services for businesses
IVR systems of the highest calibre help both clients and enterprises. It's helpful to be aware of the benefits IVR may provide, whether you're thinking about implementing a new IVR system in your business or want to be sure you're getting the most out of your present one. Discover some of the major advantages of IVR by reading about it.
1. Enhanced Call Center Performance
When an interactive voice response system is in place, client inquiries are swiftly forwarded to the agent with the highest level of expertise, which ultimately speeds up the resolution process. This is so that customers may choose the option that will put them in the best queue that is currently accessible thanks to the system menu layout. There, customers may chat with the expert who knows the most about their specific problem.
A customer's call will be sent to a team member who is knowledgeable about networks and the internet if, for instance, they choose the menu option for "smart TV support" and then choose a second option indicating that they are calling about problems connecting their smart TV to the internet.
A well-designed menu on an IVR can also boost the percentage of self-service resolutions by customers, lowering the number of agents required to handle each call. As a result, additional agents are free to process incoming queries.
Your objective in the field of customer service is to swiftly please each client. Increased customer satisfaction and organisational efficiency are both facilitated by quicker responses and fewer transfers.
2. Set Inbound Call Priority
Don't pass up valuable leads or clients. IVR outsourcing service in India enables you to place essential callers at the head of the queue when utilised as a component of a multi-channel solution, which provides you with additional customer history data. When executives or other VIPs phone in, you may conceal some options from the IVR and only make them visible to them. For quicker service, they can jump the line by entering a certain code.
You may also specify a level of service on the consumer menu selections using IVR systems. You can set a higher level of service for technical support options, for instance, if the same team responds to questions for both general customer service and technical support. This gives more technical calls precedence over routine queries.
3. Complete customer satisfaction surveys
Want to discover whether there is a specific topic driving your customer care calls or if your clients are happy with the help they have received?  Employ an IVR outsourcing service in India that offers the option of a call-ending customer satisfaction survey. When a consumer calls in, a system with built-in survey capability will immediately ask them to stay on the line. The most successful surveys just ask one or two questions of the client.
You may select the questions to ask your consumers using an IVR system, and then track their replies. This data, which is kept in the phone system, may be used to guide your strategy and advance your capacity for providing excellent customer support.
4. Messaging Updates
You may quickly change consumer communications with an interactive voice response system. If you are aware of a software update in advance or suddenly suffer a service outage, you may rapidly change the messaging to inform clients of the problem. This leaves your agents free to handle other incoming requests even if customers call to enquire about why their service is momentarily down and find the answer in your messaging.
Similarly to that, you can update the messaging to customers if there is a high call volume. They could be grateful to hear that the wait time would be longer than normal or they might choose to use live chat or text messaging as a substitute.
5. Call Deflection
Call deflection encourages customers to contact customer care through alternate channels by using updated IVR messaging.
Call volume can be decreased by recommending methods for speedier assistance, such as chat functionality on the website or by SMS. While most customer service representatives can only take one phone call at a time, it is considerably simpler to manage many chats or text messages at once, which increases the percentage of client concerns that are handled.
Your IVR services may be set up to automatically play call deflection messaging at a specific time of day or when the number of incoming calls reaches a certain level.
6. Requests for callbacks
Modern interactive voice response systems, such as the Genesys IVR system, provide clients with the opportunity to request callbacks. By making this kind of request, the client may keep their place in line without having to wait.
This choice shows the consumer that you value their time, especially during periods of heavy call volume. Additionally, it raises client satisfaction.
Use Your IVR services to Its Fullest
Automated call-handling systems will continue to serve as the first point of contact for many customer support engagements, even in a digital environment. IVR systems are becoming clever "voice bots" capable of addressing complicated client inquiries as a result of the introduction of new technologies, such as AI-powered natural language processing systems and predictive analytics. Yet to take full advantage of these new possibilities, businesses must change the way they see IVR technology, viewing it as a tool that may increase customer pleasure in addition to reducing contact centre expenses.
An IVR system shouldn't be set and forgotten even though it has numerous immediate advantages. To make sure you are utilising the technology to its fullest, it is a good idea to periodically evaluate how your IVR services are configured.
A conclusion
Consider us as your IVR/communications automation department that is customer-focused. We have assisted several businesses in presenting the Compass Automation Platform to their contact centre suppliers. To design unique customer self-service that delights your clients and lowers the number of calls you make to the contact centre, our professionals collaborate with you.
Sometimes it helps to have a different viewpoint. Companies who employ Aureon Contact Center for their contact centre need to have access to a workforce that is skilled in using IVR systems and other call centre technologies. We'll work with your company to boost productivity and enhance current procedures.