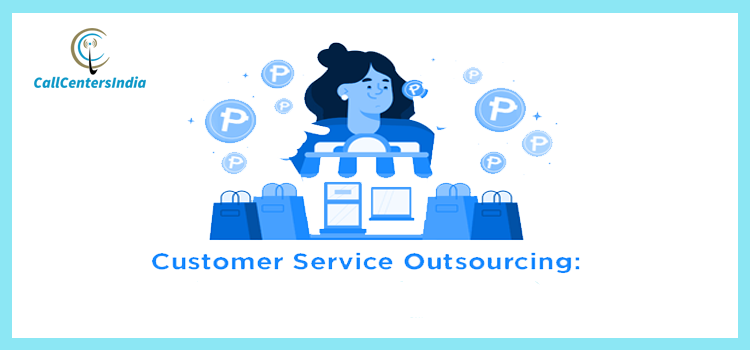 Meta- In every business worldwide, customer care service outsourcing has been the standard; this strategy allows for expansion at a fair cost while also providing a list of services.  
Your customer service requirements will change as your company grows and changes. You may be required to serve multiple languages or time zones as your consumer base increases. It's easy to feel intimidated by the possibility of doing so. Understanding new labor regulations are required when relocating to a new nation, and establishing a new office presence costs time and money. Outsourcing customer service to a reliable partner is a popular solution.
These partners have extensive regional and industry knowledge that they may apply to meet your business objectives. Customer service outsourcing is a quick and cost-effective solution to increase your support capabilities.
What does it mean to outsource customer service?
Customer service outsourcing is a contract in which you hire a Business Process Outsourcing (BPO) firm to handle your customer service needs. BPOs are experts at locating skilled people who can handle anything from phone/email/chat assistance to ID verification and social media management. Many companies specialize in finding talent from other countries to help you diversify and increase your workforce.
Outsourcing partners are set up to find top talent rapidly and have the resources to educate employees to fulfil your customer experience objectives. These teams will be trained in your processes, tools, and services and their performance will be monitored against the expectations you and your partner have set. In this post, we'll look at when you should use this strategy and how to make it work.
When is it OK to outsource customer service?
When the following issues prevent you from meeting your customers' expectations, customer service outsourcing is the correct choice for you:
Your customer service expenditures are growing
People commonly equate customer service outsourcing with a cost-cutting mindset. Outsourcing is a cost-effective approach to develop your team if you run your support staff as a cost centre, especially if ticket traffic is high and response time is essential. However, price isn't the only factor to consider.
You have seasonal or short-term requirements.
Scale is another common issue in customer service. BPOs are ideally positioned to swiftly employ the right personnel and ramp up agents without diverting time away from your existing team. Customer service outsourcing is a terrific method to expand your team, whether you require seasonal, short-term support or a long-term engagement.
You must assist in a variety of languages.
While scaling up, geographic problems, such as time zone coverage and linguistic support, are frequently encountered. Many BPOs employ in places worldwide and in nations that commonly have bilingual individuals. You save time and money by not having to set up local business organizations or deal with employee contracts and labor regulations, and you can quickly meet your company's expanding demands.
You don't want to work in shifts, do you?
Finally, employees generally find shift work demotivating. It obstructs work-life balance and requires a lot of time to create schedules and cover absences. When you outsource customer support service, the partner takes care of these concerns, frequently employing regional offices that work during local office hours to guarantee you never run out of people.
Why is it critical to choose the proper outsourcing partner?
If the quality of your customer service suffers as a result of service outsourcing, it will impact your total customer experience. Even a corporation the size of Google hasn't been immune to the effects of poor customer service.
I frequently visit Facebook groups for Google AdWords professionals, for example. Many individuals hold a grudge against Google for using outsourced services to boost their ad budget.
As a result, Google's reputation as a customer-centric firm has been tarnished.
This whole scenario may have been avoided if Google executives had spent more time vetting and selecting the correct outsourcing partner. As a result, this strategy may end up costing Google trust and brand equity in the long term.
Do you want your customer service to be outsourced?
A company may opt to outsource customer support for a variety of reasons. This is frequently more flexible and less expensive than taking on this duty you. However, it is also a significant model shift for your support organization. To be successful, you'll need to put together a cross-functional team of specialists, thoroughly understand your requirements and policy changes, and devote time to choosing the perfect partner for your company. You may be successful with outsourced customer care service if you plan carefully, use the correct customer support technologies, negotiate openly and transparently, and pay close attention to the known caveats.
Making the proper decision is critical; it will help you improve your company's efficiency, quality, and engagement with your present customer base.